Hosted by Milliken, 25th - 27th July 2019.
Makers House is bringing making back to the heart of Clerkenwell with a special summer showcase in the Milliken showroom.
Featuring a community of designers connected to Clerkenwell, creating work encompassing textiles, print-making, ceramics, lighting and jewellery. Each designer has their own unique approach to using colour in their chosen materials: in a world full of 'stuff', this 3-day show is about exploring the diverse processes behind each product through talks, workshops and demos.
Whether you just want to get creative with us and learn something new, or you're a designer wanting to meet other designers and share experiences making work in London, join us for this inaugural summer show!
The Programme:
Thursday 25th July - 18.30 - 21.00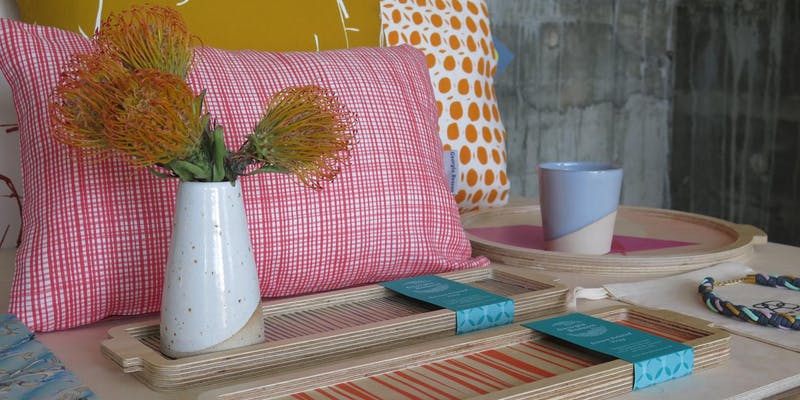 We will be launching our three-day exhibition and workshops programme with a panel discussion and workshop featuring a host of talented designers.
This will be a round table discussion and we encourage you to arrive with your own colour stories to share during the evening. There will be a chance to meet the designers after the talk has ended and to find out more about their work.
- Meet our designers -
Friday 26th July - 11.00 - 17.30
On Friday 26th July we invite you into the Milliken showroom to view the work on display and discover the colour stories behind the products. Throughout the day we will also be running a free block printing workshop where you can come and experiment with making your own colour stories using a variety of blocks, fabrics and inks.
You will leave with a bundle of block printed fabrics and instructions on how to use the fabrics you have printed, from advice on framing to patchwork instructions this drop in class will give you a brilliant insight into the world of textiles and colour mixing.
Saturday 27th July - 11.00 - 14.00
Makers House is delighted to present a special workshop for their colourful summer showcase led by designer Mala Siamptani: Jesmonite jewellery. This workshop is designed to introduce you to working with Jesmonite, and help you gain a solid understanding of the fundamental techniques that will empower you to create your own piece of jewellery (a ring or necklace), to take home.
In this session you will be shown the different steps that creating jesmonite jewellery entails, how to form this material into a product. Using hand-craft techniques: from mixing and casting, to creating a terrazzo effect, to sanding, finishing and polishing your piece.